Supply Chain Solution Ltd
Your Supermarket Logistics Partner
Supermarket Logistics Services help you manage your supply chain from point of dispatch or upon arrival in the UK or Ireland. Our import services to the UK & Irish supermarket groups and retailers ease the process.
We create bespoke wrap around logistics processes to service the requirements of our customers whether they are manufacturers, distributors or importers. We try to simplify the supply chain for you by providing seamless importation, warehousing and distribution services demanded by suppliers to supermarket groups & retailers.
As well as regular day to day business, we also undertake Supermarket Specials, where high volume and short time windows with 4-6am delivery slots are expected.
Logistics services specific to each of the Retail / Supermarket Groups can be found by clicking the relevant icon above.
Specialised Supermarket Logistics
SCS Warehousing services and locations
We provide specialist warehousing services for suppliers to the UK supermarket groups. If you require, re-stacking, repacking, or distribution of goods to any UK supermarket group, we can help, whether the goods arrive on container or on a trailer.
Ours warehouse solutions are alongside or near to the major supermarket Regional Distribution Centres.  We provide both full load and consolidation/groupage services for suppliers to UK & Irish supermarket groups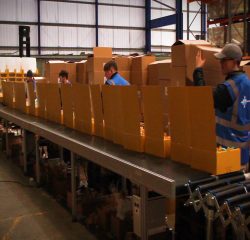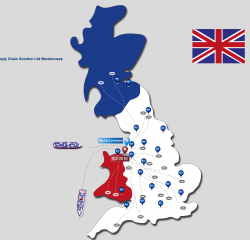 Call us Today on 0044 151 284 8867 or email sales@supplychainsolution.co.uk
Our international freight hubs are based at Manchester and Heathrow airports, providing all import and export services
We provide a range of road freight services from vans to artics, and offer part loads and back loads from the UK to mainland Europe
We offer shipping services via Liverpool, Felixstowe, Hull and Immingham
We provide ambient warehouses throughout the UK and Ireland to support our logistics operations. 
Company documentation including insurances, application forms and FAQ's
Please click for a quote on Road, Sea, Air or Warehousing

We provide Logistics services to UK & Global manufacturers/distributors who supply Lidl in the UK & Ireland. We make the

We provide Logistics services to UK & Global manufacturers/distributors who supply Aldi in the UK & Ireland. We make the

We provide Supermarket logistics solutions to UK, European & Global manufacturers/distributors who supply Aldi, Lidl, Morrisons, B&M and TJ Morris. Our