All Departments - Traffic Office, Warehouse, and Maintenance Facilities are manned 24 x 7 x 364, this enables all customer transport/distribution requirements to be processed with maximum efficiency via our Roadrunner Computer System, which allows us to ensure customers goods are delivered on time every time.
Supply Chain Solution warehouse lies within 1 mile of Lidl Bridgend and within 26 miles of Aldi Cardiff RDC. SCS warehouses provide the following services: Pallet restacks, Pallet Storage, Reworking of damaged stock and rejected loads. We can also arrange delivery back to the consignee.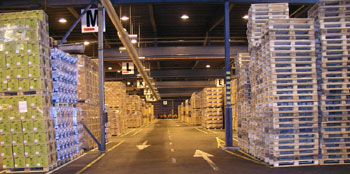 100,000 Sq. Ft Warehouse.
10 minutes from Lidl Bridgend
Full repack & restack services available
Local deliveries on own fleet
Within 5 miles of Lidl Bridgend RDC and 20 miles from Aldi RDC Cardiff
If you require any further information please contact us by clicking here. If you require a quotation please complete one online by clicking here.